Official Book Release
November 12, 2021
How to Sacrifice Your Lover – A Tale of Gaslighting and the Cult of Borderline Personality is now available on Amazon.com.

"Love is a powerful weapon. We don't expect people to not scream when guns are fired at them. We don't expect people to not cry at funerals, or not cheer when they win a million dollars. Do not expect me to just be able to shut down these feelings of love, just because her love for me was a twisted manifestation, like a gun shooting blanks. Like running from a falling building, Inari's love compelled me to run… not from her… but towards her…"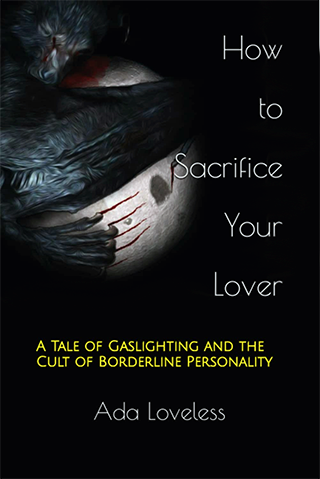 >>>buy it now<<<
Follow me on TikTok @ada_loveless
Join my Facebook Author Page



(True as Remembered) How to Sacrifice Your Lover is a psychological love story.

Yuki is on a kamikaze ride to find his one true love in a sea of perverts, greed, and psychological disorders… searching in all the wrong places. When Yuki meets Inari, they quickly form a bond that is as bizarre and confusing as it is deep, fanatic, frantic, and sometimes explosive. Yuki is willing to plot, scheme, and betray for the opportunity to rescue Inari from a sociopath she can't escape. Inari plays impulsive games seemingly to inspire emotional, sometimes violent, responses from her sociopathic lover. Emotionally tormented, Yuki, tries desperately to prove that his love is more valuable to Inari than an emotionless, dead-eyed, robot.
In a nutshell, How to Sacrifice Your Lover is about what it is like to fall in love with a Borderline Personality. It is a tornado of love! A tornado of destruction and confusion! It covertly observes many other psychological disorders including Schizophrenia, Dependence, Avoidance, Sociopathy, and Narcissism. This 150,000-word book was inspired by a whirlwind of 90-days that were as twisted as they were magical, a time when personalities and personality disorders collided into a beautiful mess.